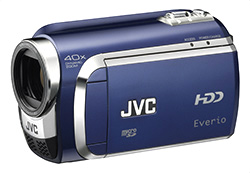 We headed out to Fry's to find further information on the Flip Mino HD. To make a long story short, about two hours later we come home with the
JVC Everio GZ MG630A
.
There were a number of features we liked, among them are:
Had a sizeable hard drive.
Utilized SD cards.
Small/easy to handle
The strap is cool!
It has a built-in light on it (come to find out most JVC's do and this is what they are known for.
So, stay tuned to some videos from our new camera!